See the new Link to my 2018 DNA results on the last page.

Are the MIGA's related to one another, or is it just a coincidence that we all have a common surname? Where did the name originate? What city or village did your family come from? Lwow? Lemberg? Lviv? in Poland. All the same town; however, only it's name has changed through history, AND... now the politics have changed the boundaries and Lviv is in the Ukraine now. How many years have they lived there? Where did they come from before that? Have we always lived in Eastern Europe? With the help of my friends at FAMILY SEARCH I recently discovered a link to find Lauretius Miga born in 1803 ~ Rzeszow, Poland. His parents were Bartholomous Miga and Maryanna Piokzonka.

Why did Andras leave Slovakia? My Grandparents were peasants, possibly illiterate, lived in a stable and owed their existence to the well off land barons of Kapisova in Upper Hungary. Family members who emigrated from eastern Europe had lived a poor life style under 19th century feudal-like conditions and they wanted a better life. They were hungry! You will see in the census pages below that the whole family lived in a two room stable. In the Winter the animals were brought indoors for warmth and the family moved up into the loft.

Their miserable existence also provided a vast supply of young men (mostly peasants) for mandatory military service where they might never see their families again, IF they lived long enough. Young men were conscripted into the military at the age of 20. As was the case during this time the army with the most surviving peasants was always the victor. Austrian and Hungarian war clouds were looming on the horizon and conscription into the army was a major factor that lead to emigration. It was time for my Grandfather, Andras, to leave. At the time, the United States was his best choice. Remember your history, it was soon after with mainly civilian, conscripted armies, that World War-I started.
My Grandfather, Andras, was born December 20, 1875 in Kapisova and baptized March 26, 1876 in Kruzlova, which is located near-by in the northern part of Hungary. His parents were Miklos (Nicolaus) Miga and Anna Omaska. Who were their parents and/or siblings? Their children were Mihaly, Miklos, Vanya, Ilya, Andras, Mary, Anna - there may be others that I am not aware of.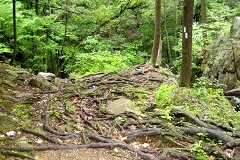 Our roots are long ~ where did they originate from and what kind of work was available to those before us?

Over one hundred years have passed, two world wars, and Communist oppression have changed so many lives since my Grandfather arrived in the United States. The courageous immigrants are gone now and their stories remain silent. The history is slipping away. Generations have gone by and so little has been written down about the past. I am 86 now and before it is too late, I would like to piece together the relationships and memories of our family. I want my Grandchildren's Grandchildren to be proud of their family history and culture, no matter how humble.

On July 6, 1899, Andras Miga age 22, my Grandfather, arrived at Ellis Island on board a Norddeutscher Lloyd ship from Bremen. He made three trips ~ SS Lahn 1899, SS Barbarosa 1899, and the SS Neckar 1901.The manifest of the SS Lahn states that Andras arrived from the little town of Kapisova, Hungary (near Svidnik) to visit with his sister at 42 Washington St, Yonkers NY. I would like to know, what was her name and what became of her after that? Was it his sister Mary Miga? Mary married Michael Kohute and I discovered through the US Census Records that the Kohute family settled on the same street in Medford, Massachusetts.

My Grandfather may have met my Grandmother, Anna Krowitsky*, in New York. Anna may have been born in the small village of Dlhuna, which is not far from Kapisova. They married, and soon afterwards moved to Medford MA USA to raise a family of eight children. Andras and Anna had eight children: Andrew, Anna (Miga) McTague, Helen (Miga) Murphy, Mary (Miga) Smith, John, Michael, William, and Lillian (Miga) Scully. I am John Paul Jr, the son of John Paul Sr.

Other persons with names Miga and Migova arrived from other communities such as Wola Wadowska, Rzeszow, and Mielec in Galicia (Poland), Hrabovec, Ladomirova (Northern Hungary), and Lemberg (Lviv Oblast, Ukraine). Since these communities are not too distant from each other could these families all come from the same beginning?

* Another family in Pennsylvania feel their Mary Krenitsky is Anna's mother. My verification comes from both the 1910 and 1920 US Census from Massachusetts file. Unless I see their documentation my Grand Mothers maiden name, Krowitsky will remain. See my Links and Information page.
~~~~~~~~

Check this out! To relieve the increasing demands on the clerks-of-the-court due to the huge
volume of those being naturalized, from June 6, 1906 to September 22, 1922, wives of naturalized
men automatically became citizens. Consequently, there is little or no paper trail for the spouses.
32-STAT-596 and 42-STAT-21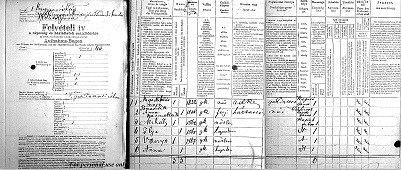 1869 Census ~ House number 43, Kruzlova, Slovakia
My Grandfather, Andras Miga, was born AFTER this census was taken.
Could this be the home of my Great-Grandparents Nicholas and Anna?